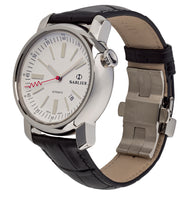 Bottle the flow of time - World's first concave crystal watch
Our seconds, minutes, and hours cannot be regained once gone; they are not owned or bought. But they can be used wisely. When treasured memories define moments in time, they make the passing of days and years a thing of beauty. Doing what you wish with who you wish, in the moment—that is a luxury that stretches far beyond the sprawling mansion or dazzling yacht. The freedom to take charge of one's time, rather than be ruled by it, is more valuable than any symbol of wealth.
Informed by this thoughtful perspective, as well as the belief that a simple, elegant, and comfortable timepiece is the ultimate accessory, our wine-inspired watches invite the wearer to embrace and engage in the here and now.
The wristwatch was first invented in 1868, but it wasn't perfected until 2011
It began with one watch enthusiast's mission to find the ideal timepiece. He failed, but not for lack of trying. After many purchases and much frustration, Kun-Chi Wu realized that if he wanted the "just right" watch, he'd have to build it. Sablier was born.

A Sablier watch's most notable characteristic is undeniably the patented concave crystal construction, which offers a wider range of visibility, scratch resistance, and glare reduction. Knowing this, one might wonder why it had never been done before. KC discovered the answer a short way into his design journey. When the face is concave, so must be the dials, hands, and crown. This is no small feat. The level of craftsmanship required to not only design, but also to manufacture, such a timepiece would prove difficult and costly. But for KC and his business partner, Sam Konigsberg, the resulting innovation—a watch unparalleled—was irresistible.